Joey Votto & Elly De La Cruz Cincinnati Reds 3 Pack Player Friendship Bracelet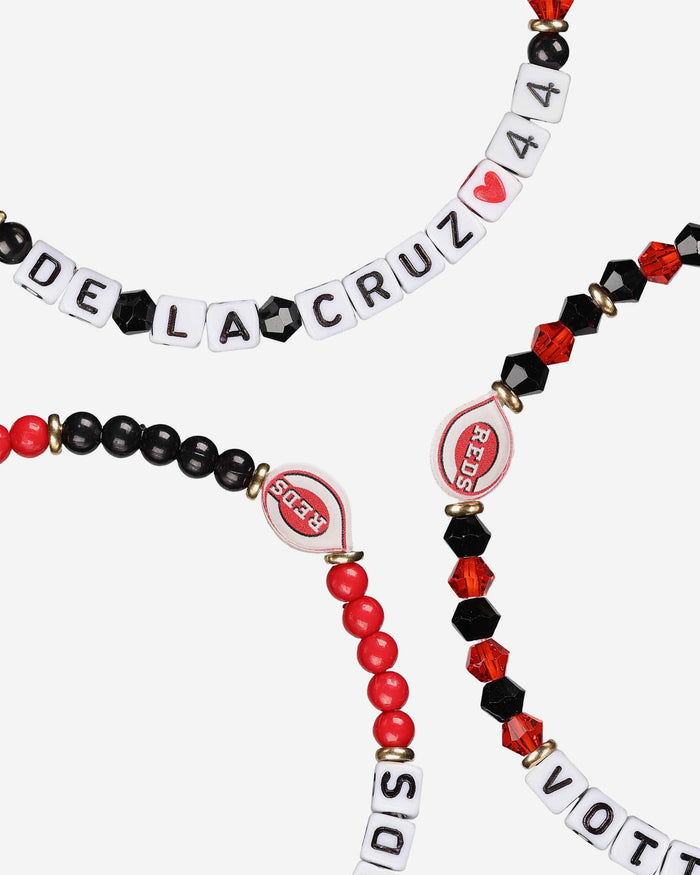 Product Description
Accessorize and maximize your fandom while impressing your fellow fans with this Joey Votto & Elly De La Cruz Cincinnati Reds 3 Pack Player Friendship Bracelet. These matching friendship bracelets have an all-over team-colored design and team logo displays, which makes them the perfect way to show your support for the Cincinnati Reds and get in on the latest accessory craze.
Every bead bracelet design is the perfect addition to your outfit, whether you're heading to the game, watching at home, or just hanging out with friends. With thematic word displays and team-specific accents, you can focus on cheering your team to victory on gamedays and celebrating a style victory on off days. With a trio of bracelet designs to choose from in each three-pack, you'll always know how to make friendship bracelets a part of your fit.
Features

All-over team-colored design: These adult friendship bracelets are covered in the official Cincinnati Reds colors, so you can show your team spirit with pride.
Team logo displays: Our friendship bracelet patterns feature beads with team logo displays so everyone will know who you're rooting for.
Thematic words displayed: Letter cubes are organized on a friendship bracelet string to display team-specific words, messages, and player names that will make sure these Joey Votto & Elly De La Cruz player friendship bracelets always have your team spirit front and center.
Team-specific accents: Show everyone what a true fan looks like with cool friendship bracelet patterns that showcase elements specific to the Cincinnati Reds that diehard and casual fans alike will recognize and appreciate.
Brass ring accents: These beaded friendship bracelets have brass ring accents that separate sections of the bracelet patterns for a cohesive and eye-catching look.
Gem beads: Our team beaded bracelets showcase team-colored gem beads to make sure your friendship bracelet matches with the rest of your attire, accessories, and jewelry.
Perfect for:

Game days: These friendship bracelets are perfect for game days, so you can show your team spirit in style.
Symbolizing friendship: These friendship bracelets are also perfect for showing your friendship to someone. They make great gifts for your fellow fans to commemorate special occasions, including every big win.
Showing support for your team: Our friendship bracelets are great ways to let everyone know who you root for while also making an eye-catching fashion statement.
Exchanging: Who doesn't love a friendship bracelet exchange? Swap a friendship bracelet with a fellow fan at the game, at the tailgate, or even while you're waiting in line at the concession stand.
Details

Circumference: Approximately 7.5 in.
Manufactured by FOCO
Players Choice Academy™
Officially licensed by Major League Baseball
Imported
Get in Line. Get the Goods.
How It Works

To make sure FOCO Members have an equal chance to purchase high-demand items on our site, we use a Line Checkout System.

Wait time may vary based on demand.

Improve Your Odds

Here's how to make your Line Checkout experience as easy as possible:
1. Become a FOCO Member

Line Checkout is available to FOCO Members only.

2. Update your FOCO Member profile

Make sure your shipping & payment information is current.

3. Set a Reminder

Set a calendar reminder for 15 min before the scheduled item's launch date and time.

4. Be Prepared

Make sure you're signed in to your FOCO Member account and ready when the product launches.