Jason Kelce Philadelphia Eagles Super Bowl LVII Outfit Bobblehead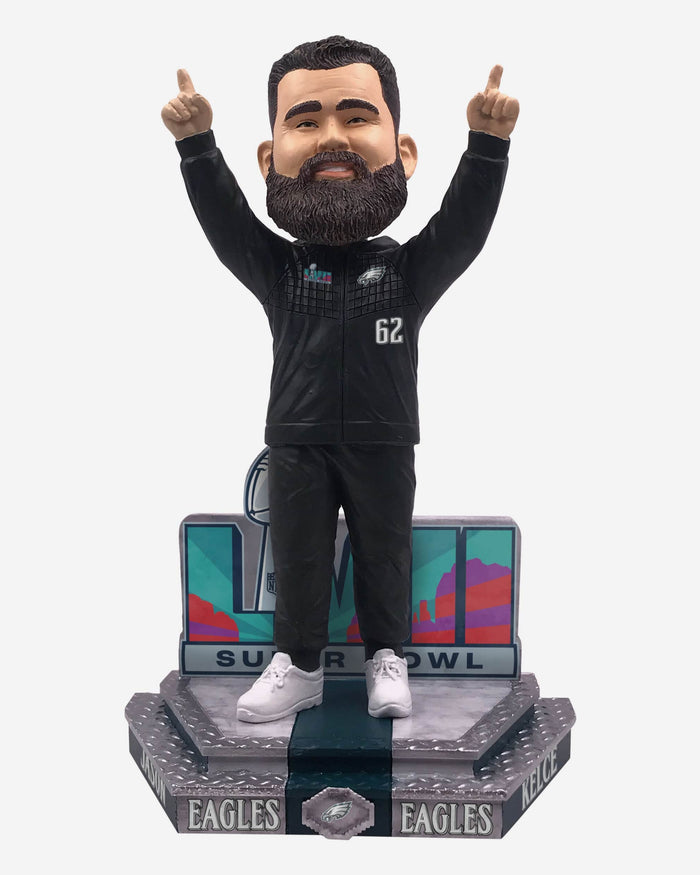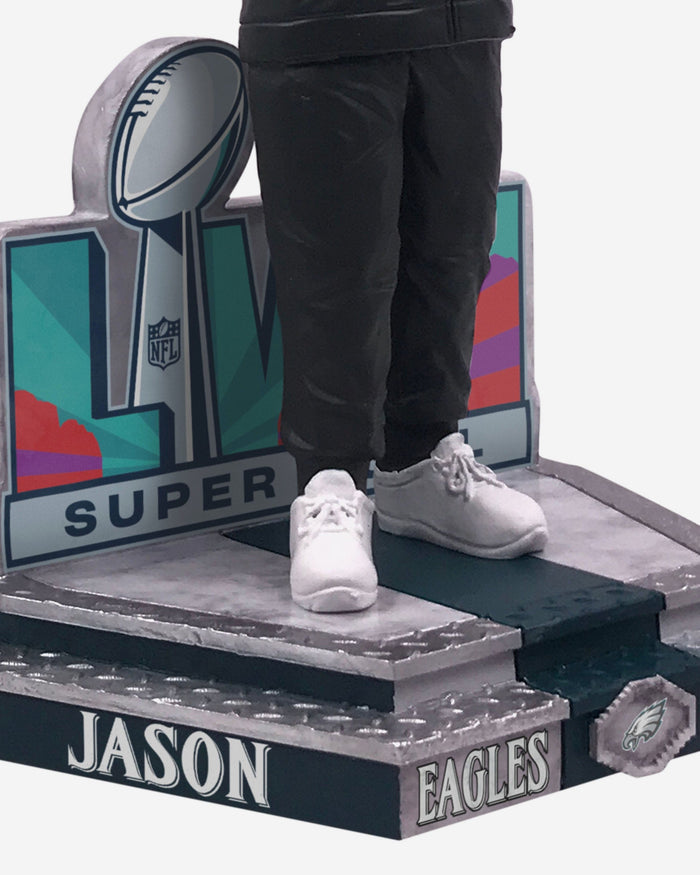 Product Description
When the eyes of the football world are upon you, you've GOTTA dress to impress. The Jason Kelce Philadelphia Eagles Super Bowl LVII Outfit Bobblehead is here to show off some big game fashion sense.
Features

Portrays Kelce posing in a jumpsuit, dressed to impress
Team logo, Super Bowl LVII logo, and jersey number displays on jumpsuit, even though we know he's No. 1 in your heart
Super Bowl LVII logo display on backdrop to celebrate the big game
Team-colored base that will look great in your collection
Team logo and wordmark team name displays on front of base, in case there were any doubts where your allegiances lie
Front name display so everyone knows who the face of your franchise is
Handcrafted
Hand painted

Measurements

Height: Approximately 8 in., base included

Details

NOTE: In order to get this bobble to as many fans as possible, we have a strict limit of two (2) of these items per person. If we find this limit is being abused, we reserve the right to cancel and refund your order. Thank you for your cooperation!
Due to its limited nature, sales and discounts are not applicable to this item. We apologize for any inconvenience.
The product(s) you receive might vary slightly in appearance from the product's image on our website due to the nature of your product(s) being handmade.
Please understand that all handmade items, by nature, may have imperfections. Although we are thorough, there can be inconsistencies based on the creative nature, and it is possible that one item may look a little different from the next.
Our items may have natural and unique imperfections.
Any item you purchase is one of a kind. There are no two items that are exactly the same.
Not a toy
Edition Size: 72
Individually numbered
Officially licensed by the National Football League
Imported
Get in Line. Get the Goods.
How It Works

To make sure FOCO Members have an equal chance to purchase high-demand items on our site, we use a Line Checkout System.

Wait time may vary based on demand.

Improve Your Odds

Here's how to make your Line Checkout experience as easy as possible:
1. Become a FOCO Member

Line Checkout is available to FOCO Members only.

2. Update your FOCO Member profile

Make sure your shipping & payment information is current.

3. Set a Reminder

Set a calendar reminder for 15 min before the scheduled item's launch date and time.

4. Be Prepared

Make sure you're signed in to your FOCO Member account and ready when the product launches.